Information condensed from Amnesty International's greeting card campaigns of November 2008 and November 2009: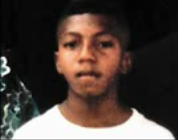 In 1995 when Patrick Obinna Okoroafor was only 14, he (according to his brother Henry) "went to the police station because the police wanted to inspect a car our mother had bought". He was arrested along with six others, charged with robbery and kidnapping — of which he says he is totally innocent. Police hung him up, beat him, and used pliers to pull out his teeth. Exactly two years later, in May 1997, he and the other six were sentenced to death. Those six, including one who had been 15 at the time of the supposed crime and was now 17 (Chidlebere Onuoha), were publicly shot. Patrick's sentence was commuted to life. In 2001 the High Court of Imo State ruled that the sentence of death had been "illegal, null and void"; yet that he was "to be detained during the pleasure of the Governor". That is, indefinitely.
In 2009 his sentence was reduced to 10 years starting immediately. In other words he is due for release in 2019, after a total of 24 years.
He says: "We are 64 people in the cell. It is poorly ventilated. We have no modern toilet system, no provision for bathrooms... absence of enough beddings and mosquito nets... I have spent these years crying, praying, and reading." He has developed severe asthma. Here, now aged 29, he has already spent more than half his life.

Points some of which you could add (if you wish) to that minimal letter:
It is reported that his trial was not fair.
The appeal granted to him was limited and the court review was limited.
Sentence of death for someone under the age of 18 is contrary to international law.
He was tortured in police custody.
Why is he still detained after the High Court declared his death sentence null and void?
Conditions in the prison appear bad, and his health is threatened.
Imo State should declare a moratorium on the death penalty.
You can send him a card, with a simple non-political and non-religious greeting:
Patrick Okoroafor
Aba Prison, PMB 7020
Aba
Abia State
Nigeria
Nigeria has not officially reported any executions since 2002. But Amnesty and others have found evidence of at least 7 executions by hanging in 2006; at least 20 death sentences were given in 2007; there are at least 725 men and 11 women on death row; of them at least 130 have been there for more than 10 years, and some for more than 24 years.
Patrick's case has been "adopted" by the East Devon group of Amnesty International United Kingdom (Maureen Thurlow or Alison Kerruish).
In 2009, when Patrick (arrested at age 14) had spent the second 14 years of his life in prison, 14 14-year-olds held up signs such as "14 YEARS IS A LIFE" in front of the Nigerian High Commission in London.
Patrick's brother Henry (12 years older) has written in Amnesty Magazine (Sep.-Oct. 2010) that he at first thought Patrick's arrest was a joke. Their father kept assuring him that Patrick would be released next day, eventually spent all he had on the case and was exhausted. Patrick himself had become sick, without hope or the will to live. But when Amnesty took up his case and hundreds of cards and letters started arriving, it made a huge difference to his morale, and his treatment by warders and other inmates became far better. He has written to Amnesty: "You have given me hope... When I read some of your letters they make me so happy that I forget about the prison..." Henry, who lives in Germany, says "Patrick will become a lawyer - his childhood dream - I'm sure of that. But when he comes out I want him to come to Germany and rest with me and my family and have time to adjust. I have a plan set up. I am fighting injustic and he must be freed."