new version posted 2012 October 14
Hakamada Iwao's appalling imprisonment — information condensed from Amnesty International documents (website, the Individuals at Risk portfolio, greeting-card actions, and new mailings in 2011, 2 012 and 2013)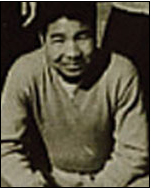 Hakamada Iwao, 77 on 10 March 2013, is the world's longest-serving death row prisoner: 47 years.
He was arrested in 1966 for the murder of his employer, his employer's wife, and their two children.
Held in a police cell, he was intensively interrogated for 20 days under a system called daiyo kangoku ("substitute prison"). During this time there are no rules controlling the length of interrogations, which last up to 12 hours a day; sessions are not recorded; no lawyers are present. Amnesty International has documented methods routinely used to obtain "confessions," including intimidation, beatings, sleep deprivation, questioning from early morning till late at night, and making the suspect stand or sit in a fixed position for long periods. At his trial Hakamade said he was beaten and threatened by police officers to force him into signing the confession. He has repudiated it ever since, maintaining his innocence.
Used as evidence at the trial was a set of bloodstained clothing, found in a tank at the factory where he worked. The clothing was too small for him. The prosecution claimed it had shrunk in the tank. The knife he was supposed to have used was, according to his lawyer, too small to have made the fatal wounds. And the door by which he was alleged to have entered and left the victims' house had been locked.
In 1968 he was convicted and sentenced to death, primarily on the basis of the forced confession.
Lawyers have made several unsuccessful appeals to the higher courts.
The principal judge presiding at the original trial, Kumamoto Norimichi, has publicly stated that he believed, even then, that Hakamada was innocent. In testimony to the UN he said: "I could not convince the other two judges that Hakamada was not guilty so I had to convict him as the decision was made by the majority . . . I pray for his exoneration every day."
This judge joined the campaign to get Hakamada freed: www.protectthehuman.com/videos/-i-had-to-sentence-an-innocent-man
British Liberal Democrat MP Alastair Carmichael has worked on the case with Amnesty International, made a trip to Japan, and commented (on the Amnesty Blog website): "I have never come across a campaign before claiming a miscarriage of justice where the campaign included one of the trial judges!"

Waiting to be hanged for more than forty years, could be hanged tomorrow
Execution in Japan is by hanging. After appeals are exhausted, a prisoner may wait years or decades for this. Yet could be executed at any time. He is notified only on the morning of the day he is to die. It is done in secret. The family is informed only afterward.
The Ministry of Justice claimed this secrecy protects the family of the prisoner from shame, even that it reduces mental strain on the prisoner. It does the opposite: the prisoner lives year after year in unremitting fear of imminent hanging.

Driven mad
Hakamada has spent 28 of the years of his imprisonment in solitary confinement
Prison governors and wardens have wide discretion to set their own rules, and these rules are kept secret. Death row inmates are not allowed to talk with other prisoners, nor to engage in hobbies or other interests, nor watch television. Visits from family and lawyers are at the discretion of the governor. Rules control how many letters a prisoner may write, when he may go to the toilet, even the way he is expected to walk.
No wonder that Hakamada has become mentally ill. After his sister requested a re-trial, a psychiatric review was made by Dr Nakajima, who found that Hakamada's condition amounted to a "state of insanity," he could not maintain a conversation, had megalomania, had lost understanding of what execution meant, needed hospital treatment, was not competent to petition for a re-trial, or indeed to be executed.
This allowed his family to petition in his stead for a re-trial, which his sister did, but re-trial was again turned down. His sister believes that a re-trial would lead to his release.
International law clearly prohibits the execution of the mentally ill. Japan's own Criminal Code gives the Minister of Justice the power and responsibility to stay an execution "if a person condemned to death is in a state of insanity."
In 1998 the UN Human Rights Committee found that prison conditions for death row inmates in Japan were incompatible with the International Covenant on Civil and Political Rights, ratified by Japan in 1979.

Cautious hope
The death penalty has wide support in Japan. This is at least partly due to the extraordinary secrecy that shrouds it from view. People do not have to think about it, and there is little information for potential public debate.
The government showed some openness to public debate on the death penalty. Minister of Justice Eda Satsuki declared at a press conference on 21 January 2011 that it was time for Japan to consider abolition.
Late in 2011 the Shizuoka District Court commissioned experts from the prosecution and defence to carry out a series of new forensic tests - DNA tests - on the clothing Hakamada was alleged to have worn at the crime. The court examined this evidence from October 2012 to January 2013. It is reported that the new evidence casts doubt on Hakamada's conviction. The court is expected to make a ruling on whether to grant a re-trial, but has asked the prosecution and defence yet for more information, and is expected to announce its decision in April 2013 at the earliest..
However, in December 2012Japan got a new government, the new Minister of Justice supports the death penalty, and by March 2013 there were three executions.